http://www.guardian.co.uk/sport/2013...ion?CMP=twt_gu
The once-revered scrum has become a mess, yielding little but penalties, delay and confusion – something needs to be done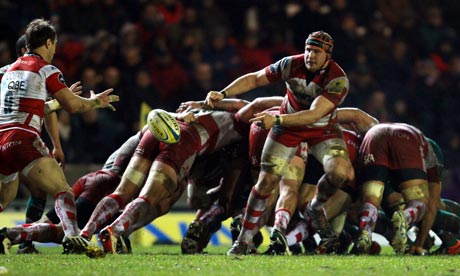 Gloucester's Ben Morgan passes to Jimmy Cowans from the back of a scrum at Leicester. Photograph: David Jones/PA
The early days of a new year are a time for resolutions, and it is high time for a resolution to the problem that the scrum has become in the professional game, a mess of resets, free-kicks and penalties: statistics show that below the top end, both at club and international level, the scrum is a far more effective means of restarting play.
Ever since the law changed so that backs were required to stand five metres back from a scrum, defending teams have sought ways to deny the attacking team quick ball; conceding a penalty or, especially, a free-kick is deemed a price worth paying.
Gloucester gave away 10 penalties at the scrum against Leicester last weekend and they continued to infringe even after losing a prop to the sin-bin. Another should have followed, but referees seem concerned at the impact of playing a forward short in a scrum would have on a side already struggling in the set-piece.
One answer may be to force teams who lose a prop to the sin-bin to pack down with eight players at a scrum: many teams already do so on their own put-in – Gloucester put Mike Tindall at wing forward on their feed at Leicester – but not when they are defending. It would add to the deterrence value of a yellow card.
When Harlequins were at Northampton last month, they pushed the home scrum back some 10 metres in the opening minutes. How would Northampton, a team that prides itself on forward power, respond? The next four scrums resulted in free-kicks for early engagement, two for each side, and what should have been one of the pivotal areas of the game became a victim of the referee's whistle and a means for yet more kicking.
Concerns about safety over the years have made referees wary. They could blow at every scrum for a crooked feed, but act only if a scrum has gone down or is in danger of doing so. The days when hookers competed for the ball are long gone, but what sort of game is it when a team is blown for a crooked lineout throw only for the opposing scrum-half at the resulting scrum to be allowed to get away with putting the ball under the body of one of his second rows?
The Saracens director of rugby, Mark McCall, said last season that he hardly bothered working moves from scrums because the average match yielded little possession from the set-piece and this week the Worcester head coach Richard Hill, a scrum-half in his playing days, revealed his despair at what had happened to one of the game's staples.
"It is very frustrating, I really don't know what is going on," Hill told the Worcester Evening News. "How many times can a team get a three-quarters move from a scrum? We hardly ever work on moves from a scrum because you just don't get them. Every scrum is a free-kick, a penalty or a complete mess: it's so hard and I have no idea why. I think it started when the health and safety hit us with this "crouch, touch, pause, engage" nonsense. Every time a scrum goes down, the referee has to reset. In the old days, if it went down, you just used to play on.
"It drives me up the wall when free-kick after free-kick is given. If a scrum is dominant and one team is clearly shunting the other back, I don't think you can argue if they concede a penalty. When the scrum just goes down without either side going forward, then how can anybody tell why it has gone down? The only people who know are the front rows — referees, the touch-judges and coaches don't know — it is just those six blokes who will know who's done what. So, don't blow for a free-kick, just let the game flow and it would be a much better game if we just did that. The whole idea of a scrum is to keep 16 forwards in a huddle so there is a bit more space to play."
Hill called for a change in the law, something that would have to happen before September because nothing new is introduced by the International Rugby Board less than two years before a World Cup. Various working parties have looked at the vexed issue, but have come up with nothing more than dropping the word pause from the crouch/engage call.
The scrum needs looking at because, with teams rarely kicking for touch any more unless they have been awarded a penalty,
rugby union
is revolving around the breakdown, meaning backs rarely run against backs with attacking teams facing a straight line of defenders; skill levels, such as passing and handling, have suffered. So even though ball-in-play time tends to increase every season, games at the top tend to be decided by a mistake rather than a moment of inspiration.
Directors of rugby tend to preface after-match comments by saying how hard their players have been working in training, but on what. Physique and stamina seem to have become far more important commodities than skill and a look at the meetings between the leading teams in the Premiership season show how sides tend to cancel each other out with tries at a premium.
The scrum should be looked at as a matter of urgency. Rugby union should be about diversity, not homogeneity. As Hill said: "There has to be a change to the laws because it is a lottery at the moment: you that you might as well toss a coin to decide what happens at a scrum. One week you will do one thing in the scrum and not get penalised, but the next week you will do exactly the same and get penalised. You always think there will be a free-kick here but you have no idea who it is going to go to. Let the game flow."