One of the all-time greats, who wouldn't want him in their team?
http://www.guardian.co.uk/sport/blog...1-richie-mccaw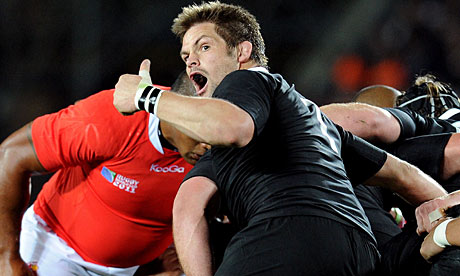 New Zealand's Richie McCaw will win his 100th cap against France. Photograph: Franck Fife/AFP/Getty Images
The milestone should have been passed last week against Japan, but a calf strain meant that no bunting could be hung at the shrine. And so the skipper is still stuck on 99 caps. Only for the moment, though, because against France, Richie McCaw will become the first New Zealand All Black to win 100 caps.
Sometimes they stretch these things out on purpose, just to milk every last drop. But you could sense that the All Black coach, Graham Henry, having gone through a thousand eulogies for his openside wing forward before that Japan game, had to take deep breath before starting all over again. He wouldn't want the second version to sound anything but heartfelt.
And to be fair, he inserted "inspirational" and "special" into his sentences with conviction. But perhaps the McCaw ton is best appreciated when set alongside the tally of his old team-mate, Mils Muliaina, who was running towards the same giant round figure, but who now finds himself stuck on 98. It would have been 99 against Japan, but the full-back withdrew with a hamstring strain, and with Israel Dagg now the first choice at 15, there is a chance that Muliaina will not join McCaw on three figures.
"Not picking Mils involved a long discussion," said Henry. "With plenty of emotion. But the team comes first. Mils would be the first person to say that." Now, that was said with feeling.
Picking or not picking McCaw does not involve a long discussion. He plays, inked in as the first name. A full decade has passed since Josh Kronfeld, who with 54 caps was not bad himself as a "loosie", No7 in Kiwi, gave his thoughts on the original selection of McCaw. "You might as well just give All Black jerseys to everyone. The fact they picked guys off one NPC [National Provincial Championship] season is bloody incredible."
It was true that McCaw had mustered all of eight minutes, in two appearances off the bench, for the Crusaders in Super Rugby in 2001. And it is true that his first act in his inaugural Test match, against Ireland, was a bit of a fumble. But it is equally true that by the end of the game he was stealing the ball and supplying it for a try by Jonah Lomu. Kronfeld had his views, but I remember a larger host of observers saying: "Look out for the kid at seven. He's going to be a good 'un." He was the man of the match.
How good is he a decade on? He is a great player, very nearly as good as the best
rugby union
player I ever saw, Michael Jones of Samoa and New Zealand. The version, that is, of Jones the No7 as he was in 1987, before knee injuries slowed him down. He was the master of all the arts: fast, aggressive and thoughtful – and with a spring at the lineout that nudges him perhaps past McCaw.
But that is to split hairs. What has set McCaw apart in the professional age, when everybody is on a mission to be as fit as possible, is a massive engine, an aerobic prowess that keeps him running to the end with mental faculties intact. He's from farming stock in Hakataramea Valley, South Canterbury, and there is something entirely natural about his physique. Woodenly muscled gym-monkeys are starting to flag at the World Cup. Natural dynamism looks to be back in fashion.
Because he is so alert and because his legs never stop running, he remains ahead of the others, chasing the ball, making tackles when opponents might think they are through. Breath plus brain, ticker plus tackle equals McCaw.
First to the breakdown, he was the smartest over the ball. If he couldn't win it he certainly slowed its surrender. He slid his body into more niches of blue-eyed, innocent obstruction than any other player in the history of contortionism.
The past tense is used because there is a feeling that referees are on his case a bit now, not because he has necessarily failed to respond to new directives about what is not to be tolerated after the tackle, but because successive campaigns by opposition coaches have been so personal that officialdom cannot but turn a closer eye on his activities. To be singled out thus is such a compliment: "I must be doing something right," says the supposed wrongdoer.
As he has wriggled and crept into control at the breakdown, so he has attracted not just the attention of the referees. There is a catalogue of frustrated opponents who have tried to nobble him, a list that includes Phil Waugh of Australia, Jamie Heaslip (red-carded) and Marcus Horan of Ireland, Andy Powell of Wales, Dylan Hartley of England and the most recent, Quade Cooper of Australia. The Wallaby outside-half was captured on camera in the recent Tri-Nations kneeing McCaw in the head. Taking a cheap shot at Richie is heinous, and Cooper could not be more booed if he were caught clubbing kittens.
The job of loosie involves taking blows illegal and accidental. McCaw has gone off with concussion at least three times, once after banging heads with team-mate Xavier Rush in 2004, then twice in 2005 after clashing with Richard Bands of the Bulls, and against Ireland. Ligaments too have gone along the way, in his ankle in 2008.
Injuries take their toll on a player who is now 30. Maybe there are players, like David Pocock of Australia, who are bigger of arm and more solid in a crouch over the ball. Sam Warburton of Wales is gaining admirers in this land where the crafts of the back row are especially regarded.
But don't expect the 100-cap wing forward to go slowly past his milestone. The engine still purrs, the brain still assesses the situations: this one, the next, the one after; where the ball will be, three phases from here. This is the gift: sensing things before they happen. Richie McCaw sees things, and referees still don't always see him.