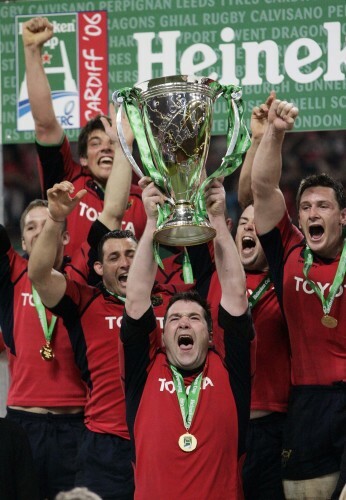 Legend
Everyone at Munsterfans.com wishes to extend our deepest, and heartfelt sympathies to Anthony Foley's family, his friends, and his teammates as they attempt to come to terms with the loss of a man who epitomised the values Munster rugby has always sought to represent. Anthony Foley was an icon of Irish sport and will always be the benchmark for what we admire in both a person and a player. He was loyal to his club roots, to his province and to his team. He was a hard opponent on the pitch but never an unfair one. He asked a lot of his team but never gave less of himself than he expected of others. His commitment to excellence, and his commitment to his team are the model for which any player should aspire.
He was the man who stepped across the amateur and professional era, and was respected by the totemic figures of both eras. His achievements stand alone as a club man and provincial player but more than that, the way he played the game will never go out of style. As a player he was the rare mix of intelligence and obduracy, the ideal captain and the ideal leader.
It is said it is easy to be humble in victory, but show a man in defeat and you can see his real character. While Anthony Foley met with defeats, he was never defeated. He carried himself with dignity when the ball didn't bounce his way. He was certain that Munster would once again reach the pinnacle of Irish and European rugby and he wanted to play his part in returning Munster rugby to that summit. The sense of shock at his passing is all the sharper for knowing that Anthony Foley had so many more good days ahead, and so much more to give to Munster and Irish rugby. As fans, it is some small comfort that he was with Munster to the end, working with the players and eager to see the next chapter.
The Munster team he captained dared to dream it, then they dared to live that dream. He was taken too young, and with too much left to give. We mourn his passing and send our thoughts and prayers to his family, friends and teammates in their grief.
Ní fheicimid a leithéid arís. Ar dheis Dé go raibh a anam.