Merry Christmas to all and a happy, healthy and prosperous 2015 to everyone here on Munsterfans, both local and visitors from other teams. After not being very good for vast tracts of December, Munster went out last Friday night and gave their fiercest rivals an old school hammering, what better belated present could they offer the attendees on Stephens Day? It was an up the guts performance and hugely inspiring after a difficult few weeks. Next up on Thursday is our neighbors Connacht at the Sportsgrounds. Having beaten Leinster already in that ground this season Munster will need to build upon the good work shown in the last game, this will not be an easy tie by any means.
Our Form
Erratic, but the manner of our last win and the key figures who fronted up would instil some optimism for the second half of the season. Munster's 'shadow' side is really the backbone of our league campaign, fellas like Billy Holland are there week in week out toiling away without fanfare. Yet he and so many others played like men possessed, never gave Leinster an inch and bossed the game from start to finish, it was fantastic to see such hunger, dedication and no little variation from the team. As cool, calm and complete an 80 mins as we have seen from any Munster team this season, they had a plan and they enacted it ruthlessly, Leinster couldn't live with them for most of the game. The bench were called upon, as always with interpro games but the lads who did come on nearly outplayed the starting XV, namely Paddy Butler and Doc2. Those two guys got through a mountain range of work, Butler with a fantastic linebreak in midfield and then an intelligent kick toward the touchline (Quinine-esque), and Doc2 notching up 80mins worth of stats in a half hour cameo, including a try!
Restarts, lineout, mauling were all areas of dominance, rucking was efficient and quick tempo allowing Duncan and Keats to pull the strings. This facet of the game is key to this current Munster squad, without quick clean ball we really struggle, yet when we do have it things look very very exciting, 9 clean linebreaks against Leinsters' 5 as a for instance. We saw forwards at first receiver once again, but trundling one out carries were mixed with simple pops out of contact or passes out the back to Keatley. From there it was all about the movement, and countering Leinsters' out to in from 13 tackling effort, Keats would try to beat them with rapid passing (which afforded ROM plenty yardage) or he would hold it slightly longer and force Luke Fitz into no mans land and try to make yards with the dog leg. Munster were positive, looked to play open rugby and keep the ball alive as much as they could, which led to our centres, both wings and Felix all having very noticeable performances.
Really and truly though Munster won by hammering away at the Leinster midriff, you could have covered the entire team with a blanket more than once. Leinster never really did anything to counter our pick and drive game and seemed to refuse to narrow their defensive setup. Munster on the front foot must be a bastard to manage, its hugely attritional and direct, for defending players it's not like you make your tackle and then roll out the defending line to wait and make another tackle, you just roll in behind the point of contact and wait to make another pillar hit. Munster played with clear heads, made good decisions and kept the scoreboard ticking away when opportunities arose to put it in the corner, a guaranteed 3pts should never be sniffed at, especially against a side like Leinster. Once the team knew it was winning the collisions it started to think about how it was going to win the game off the back of those collisions.
Like any team, unless it can get on the front foot it'll struggle. Its hard to remember a team which had a pack continuously getting beaten and kept winning games, Munster are no different. Foley's gameplan is based on the foundation of a pack in ascendancy and a pair of halfbacks making the decisions and taking the points when theyre on offer, it wasn't enough against Clermont and Glasgow, but there were reasons for that - fatigue, gulf in class, poor decision making. Between now and March 1st we have four games in this league we can win: Connacht(A) Zebre(A) Cardiff(H) Scarlets(A). Following on from that its Glasgow in Cork and then Ospreys in Swansea. Munster need to start going on a run again from last Friday, and remain in serious contention for a home playoff in this league. Europe is a different matter, but given what fellas like Billy, DuncanW, Paddy Butler and DOC2 showed against Leinster one would have to believe they can replicate that level of performance again in the next four games at least.
Connacht are always a difficult, beat them twice last season firstly in TP on Stephens Day 22-16 (JJ scored everything) and then 23-32 in Galway last April (Gerhard showed his speed).
Munster need to continue what was seen against Leinster, win the collisions, dictate the areas of the field the game is played and most importantly play with clear heads. For the first time this month Munster played within themselves and didnt worry about anything but beating Leinster out the gate, repeat that intensity and Connacht may struggle with our pack of forwards. We've the heavy artillery available from Joe again, we've two centres who continue to grow with each game together and we've selection headaches in certain positions.
Their form
The feel good story of provincial rugby this season, getting Pat Lam to move to Galway was inspired decision making and has had an immediate effect. They are unbeaten in The Sportsgrounds so far this year and as John Muldoon attested prior to the Leinster game, 'winning is a habit' they'll be very disappointed with their last two performances, particularly the game in the RDS where they played in fits and starts but couldn't transfer that pressure into points.
This Connacht team is being spearheaded by a shift in focus and more emphasis on their set piece being a weapon, with the backline they have available to them its imperative that they can get good clean ball into Marmions' hands, as Leinster learnt to their cost, the lad is a livewire and great linking player. They've recruited some players that the rest of the Pro12 would give anything to have at their disposal, Bundee Aki is a SuperVX champion, McCartney has 60 odd caps in Super Rugby, Mils is a global name in the sport. Add these guys to the home grown talents like Denis Buckley, Madman Muldoon, Matt Healy and most of all Robbie Henshaw and they have justified their 6th position on the league table without doubt, they have the same number of wins as Leinster so far this season.
Although they lie sixth they have lost once to everyone above them in the table so far, apart from Munster, and given the manner of their last two results they will look to make a statement against Munster to hold onto that unbeaten run in The Sportsgrounds. Henshaw and Marmion are names that local kids look up to like Strings and Rog were here 15 years ago, particularly Henshaw who has gotten further internationaly than many an established star has done at his age.
When they get on a roll they can be hard to contain, the pack isn't noted for being choc-a-block with ball carriers but there is an abundance of grisly and gruesome players, Willie Faloon, Muldoon, Eoin McKeown, Naupo are all teak tough and happy to get down and dirty at ruck time, but they rely on their backs to make the breaks and easy yards. Danie Poolman and Healy are different in style but both happy to make gains when given quick ball.
What should be noted above all else though is what Lam said after the beating of Leinster last September:
"Part of the reason why you go to Sligo, Leitrim, Roscommon, Mayo and Galway - and we do a lot of work there - is to tell the boys at the end of the day, when you get down to these sorts of moments, you got to know who you represent and who you're standing next to"
He's building the ties with the wider province and he's also giving the players all the inspiration and motivation he possibly can, so that when they are under the pump they'll pull together.
Munster will need to be clinical and take nothing for granted in this game, Galway is the scene of ambushes in the past, and with Lam at the helm they'll be licking their lips to turn their two game losing streak around, they havent lost three in a row yet this season.
Things to watch out for
Form rewarded, there were a fair few lads played out of their skins last week, hopefully they'll be involved again this week
Aggression in defense, Munster have been employing a soak defense for a while now, but hitting a man whilst you are running and he is standing still is a lot easier than him running at you with the ball. Let one or two lads off the leash and close down space and get us deep in the opposition territory without the ball.
Bundee Aki and Robbie Henshaw trying to buckle everyone:
Quick tempo and taking our points.
Quotable and notable
Last time we played the Western Derby: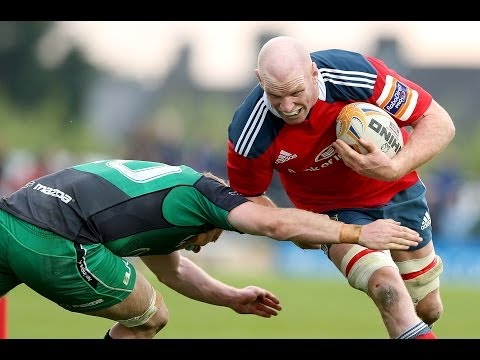 A meeting of warriors