Champions Cup was a whirlwind 2 weeks, the internationals are gone to Carton House, now is the time that league campaigns are established, when the glitz is gone and there's weakened teams all over the table. Munster need to pillage and plunder league points whilst they are on offer, first up is the misfiring Cardiff Blues this coming Saturday.
Our form
Sitting 4th on the table, its been a busy and productive 2 months for Munster, imperative that we remain within the playoff spots, given when you look at the pools Glasgow and Leinster are members of in the Rugby Champions Cup, seeding is everything. The home playoff is worth its weight in gold, you give yourself a credible chance at a final, you get a good seeding for Europe, you get money from ticket sales and right now we are 4 points off the second spot. I would hope that if November is as fruitful as October has been we could be closer to second before Clermont. It's weekends like the ones ahead and the 6N window that make or break your run, what can we glean from a time of turbulence and can we use it to our advantage?
This starts with the lads who are still training in Cork and Limerick acknowledging that the standard has been set now by the first XV and those standards need to be maintained. Good squads can manage this time of year and keep the results coming in, it can be used as an advantage to generate some real competition for starting jerseys, or bench spots, there is much to be optimistic about. My main concern would be that on field conductors of our best play are not now available, the guiders and minders if you will, but step forward CJ, JJ and Robin Copeland. Three leadership figures and three lads who have differing reasons to be chomping at the bit for this opportunity, they are also 3 men I would like to see taking more leadership responsibility because replacing James Cawlin is no easy feat for these types of games. I look forward to the day CJ captains Munster again, I think he can become a Jim Williams or a Langford, he clearly loves us, and we are pretty damn fond of him! the man of 2014. JJ is another who has leadership inbuilt, what he needs is time on the field to find his form and show Axel he can move the ball around the field like the pearler on the gainline against Sale. The man has all the assets but its time NOW to start rattling Keatley's chain, it's of benefit to everybody. Finally Robin Copeland, came onto the field like a man possessed last weekend, as did Killer BTW, however Copeland was ready for a bit of warfare which is just what we need, bring his A game again this weekend against a side he's extremely familiar with.
There will be much talk about all that Axel has lost, but I dont want to buy into that, he still has a squad more than capable of being dangerous throughout November: World Cup winners, Currie Cup and S15 players, Argie test hooker, there's a big squad in Munster. What I want to see is the framework remaining, the hunger in the tackle, the work over the ball, solid set piece, excellent territory. Our game is now based firmly within being pragmatic and thoughtful (a mirror image of Axel's traits on the pitch IMO), if something is on we will have a go for it. But, the ball is a precious commodity and must be minded and respected. Axel and the crew have instilled a lot more clarity about where and how they want Munster to play, and the players are making the decisions on the field, its a framework that all 40 players can implement. Theres lots of cheap talk about Munster Rugby being about Pashun and Honesty, but its about a lot more than those cliches, its about being clever with the ball, sussing out weak points and brutally exploiting them.
Blowing a team away over the ruck, carrying ball into their ribcages, mauling it home or screaming it out the back after we've shattered their alignment: pragmatism. Hoping that the team selected can use their heads, build into the game and keep it where we can make gains.
Their form


Really really underachieving if I am to be honest 7 points on the table, 1 win & a draw. They started the season brightly by beating Zebre in Italy, then lost to glasgow heavily at home, lost to Ulster at home, lost in Dublin, drew in Galway and lost the derby away to Ospreys. Their defence is pretty shocking, take these points conceded over the 6 league games so far: 26-33-26-37-24-26, so they need to tighten that up before all else. On the positive side though, when they do get into a game they can be effective and hard to play against around the ruck area. They gave Leinster a torrid time in the RDS for patches and were much the same for patches in Galway, its maintaining it over 80 mins has been their issue, too many sloppy errors.
They've lost 4 players to Gatland: Warburton, Geth Jenkins, Corey Allen and Cuthbert. They've also Filo Paulo gone to Samoa Camp and (I think but cant find) that Manoa Vosawai is in the Italy squad for the A.I's. When you match the squad over there to their league position though it is glaring they should be a bit better, they've known names available to them: Rhys Patchell, Josh Navidi, Josh Turnbull, Jarrad Hoeata, Adam Jones, Matt Rees, to name some, but adding into their squad quite shortly is Gareth Anscombe, a man that was seen as a loss to New Zealand rugby:

Hammett's delicate approach with his latest high-profile signing matches that of Wales coach Warren Gatland. Gatland admitted to looking at getting Anscombe in the Wales mix for the November test window, as much to bring him up to speed with their systems. But he felt it was better to allow Anscombe to bed in with Cardiff first.
Wales have made no secret that they see Anscombe as a test contender and with time ticking away on the World Cup clock, there will be pressure on him to perform up to a level to get involved in next year's Six Nations campaign.
Sorting out a position will be a priority for the versatile Anscombe who was used successfully at first-five and fullback by the Chiefs in Super Rugby and played No 10 for Auckland. His priority is at No 10 and that's where Cardiff are in need of a playmaker while Gatland continues to mix his options in that crucial position.*link below

They will likely have Argie utility back Lucas González Amorosino in their side this weekend after moving there during the summer. This is not a squad of a team thats 10th in the G12, they likely know that and will likely want to make amends. They won both their Challenge cup games, against Grenoble and Rovigo.
Hammett and Chief dont seem to be the sort to implement a wider game plan, especially when the pack is where their strengths lie. Jenkins Rees Jones is a wily old front row, they've an abrasive back row and a pair of halfbacks that like to play territory, that is when they play Patchell at 10. Patchell could be the Welsh Johnny Sexton, he is a giant outhalf, a confident player who is happy to have a cut and run the ball himself, he deserves a bit more recognition. Having spoken to a Cardiff Blues diehard (coughHuwiecough) the game is built around the pack and the backs are largely not doing enough for vast tracts of the season so far. I watched a bit of Glasgow and Blues in the Arms Park earlier this season and Cuthbert gave away 4 penalties on his own for running down blind alleys and getting pinged for holding on. That day their scrum really improved as the game wore on.
Things to watch out for
Our pack cohesion, wanna see them like a unit working close together, it'll take pressure off Duncan, it'll suck in Cardiff and it'll take them on where they are strongest, but where we are strongest too. Confidence should be high, A team getting wins, senior team the same.
Gerhard on an artificial surface, especially if we can wangle Conway for the trip as well. #rocketboosters
Cathal Sheridan, 28 mins so far this season.
Josh Navidi, if Warburton wasn't Gatlands favored boy I think Navidi would be rated a lot higher, he's a very decent backrower.
Matthew Rees, great to see a man overcome illness, I have huge time for Smiler.
Key men
Robin Copeland - Gotta seize this game by the balls.
Rhys Patchell - All good Cardiff play usually involves him, how Gatland overlooked him is a mystery, cannon of a boot.
Marius Mitrea - a fair minded referee, breakdown usually a free for all
Quotable and Notable

This game last season was played in November too, we won 10-31 with tries for Felix-Varley-Cronin and Conway. Doc2 started at 6 and CJ at 8. Andy limped over the line: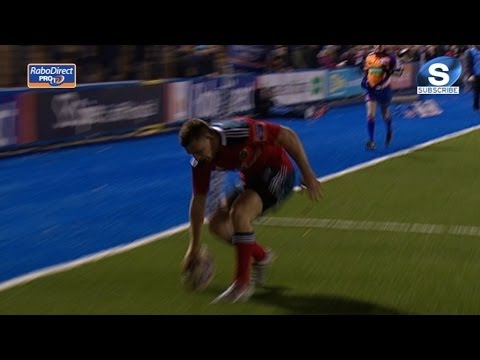 http://www.stuff.co.nz/sport/rugby/i...-Cardiff-Blues